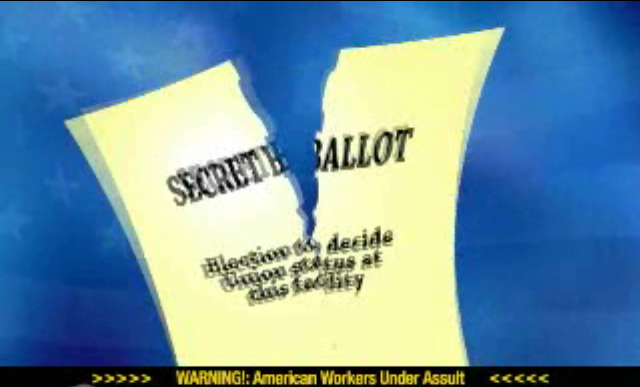 The Atlanta Journal Constitution (electronic version) posted a very good article this week by Atlanta labor attorneys, James Walter and Matthew Simpson about a piece of legislation, the "Employee Free Choice Act" (EFCA) now working its way thru Congress. If passed by the 111th Congress, it is expected that the bill would be signed into law by Sen. Barack Obama, should he be elected President.
The proposed legislation would overturn a 43 year old system in which union representation elections are conducted via a federally overseen secret ballot process, and replace it with a less formal "card check" procedure where the rules are enforced not by an unbiased federal representative, but a decidedly partisan union organizer. In essence, it is designed to do one thing and one thing only – to make it easier for labor unions to shore up their shrinking membership rolls, 'er bank accounts.
The bill has recently drawn considerable attention as the result of union-backed furor over efforts by Wal-Mart, a fervently union-free employer, to alert its management staff to the downside potential of this act, if signed into law, on their business.
As one who for thirty years has been more than a casual student of employee relations, I can attest with some certainty that there is nothing about this bill that is good for American business or its employees. Moreover, as with many of the other labels (e.g., conservative, liberal, values voter) that seem to float unchallenged through our conversation these days, I am totally and completely perplexed by the name of this bill. How in the world can something that actually reduces freedom and eviscerates a scrupulously fair process be known as "employee free choice?"
A thought leader in the areas of leadership and employee engagement, Bill Catlette is a seminar leader, keynote speaker, and executive coach. He helps individuals and organizations improve business outcomes by having a focused, engaged, capably led workforce. For more information about Bill, his partner Richard, and their work, please visit their website at www.contentedcows.com