Employee Engagement Surveys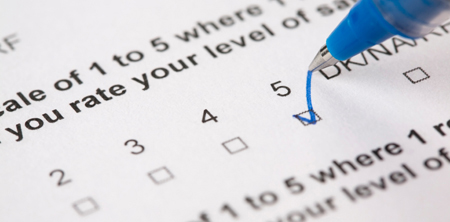 Airplane pilots and race car drivers would never consider operating their vehicles without good instrumentation. The use of appropriate metrics is no less important to the running of a business. That includes objective periodic assessment of the morale of a workforce that needs to be running on all cylinders.
When you ask us to conduct an employee opinion survey in your organization, we'll deploy the survey electronically, on paper, or a combination of the two. We provide a comprehensive survey management process. We do the work. You get the results.
What to do with the results:
When you conduct an employee survey, you create the expectation that those who participated will get the results…quickly, and that something will actually be done because of their input (see our white paper on conducting surveys). With this objective in mind, we'll present the results to your management team, in a face-to-face or virtual meeting, and, as an option, facilitate a planning meeting to help your leaders determine the specific actions they'll take to respond to the information they learned from the survey.
For added effectiveness, your survey can be delivered as part of our Bottom Line Leadership Training.
As an option, most of our surveys can be designed and administered in a 360-degree format, providing input from a variety of perspectives, including Self, Colleagues, Managers, Direct Reports, Customers, and any others whose feedback can be helpful to the development of those on your team.