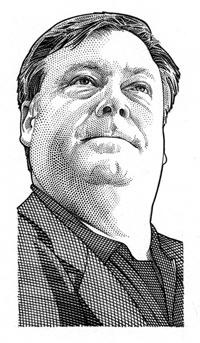 MISSION: I help leaders and teams become their best selves by shrinking blindspots, re-skilling, optimizing strengths, focusing, reducing friction.
STORY: Early stage leader @ ADP, FedEx; Entrepreneur.
ROLES: Coach, Speaker, Author, Board, Contributor to Leadership and Talent conversations

SKILLS:

 Coaching Leaders – M/F (global), Conference Keynotes (North America only), Team and Strategy Interventions
BRAND: Talent Maven
DAY JOB: Contented Cow Partners – We develop leaders, enhance employer brand, transform cultures, and boost human performance via coaching, provocative keynotes, seminars, employee survey services, strategy, books.
HOME FIELD: Healthcare, Financial Services, Hospitality
SIDE HUSTLE: Organ Transplant Champion, Boards @NFT, The Ridgway Institute, U of Miami B-school mentor
MY TIME: Writing, feeding fly-fishing addiction
MANTRA: Work is contractual… Effort is personal
STREET CRED: Work profiled by FastCo, INC, CEO magazines, B-school profs, CEO's, CHRO's + boards who've entrusted me with their top talent. Contributor – Entrepreneur Magazine, HCI.org, Hotel Executive. Published biz author 4x. B-school mentor – The U 
HITS: Led intervention that rescued Hyperion Solutions (pre-ORCL); Orchestrated Pre-IPO Strategy Intervention at Suburban Propane. Helped build Hi Performance Culture @ FedEx, Leader Development @ Aramark Uniform, La Petite Academy, Leader Coaching Successes (healthcare, financial services).
MISSES: Too slow in exiting the corporate nest, and later in migrating my practice to coaching; Conceded book title scrum; Missed signs that an exec didn't want to be coached.
RECENT WORK: Coaching leaders in Healthcare (hospitals, home-care, eldercare, devices, pharma), Financial Services; Strategy Sessions (healthcare); B-school Lectures, Employee Engagement initiatives (healthcare, banking, food manufacturing).
NOW READING: "24/6″ – Tiffany Schlain
BUCKET LIST: 1) Securing enough Donor Organs and Funding so one less patient awaiting transplant dies daily. 2) 20# snook on fly.
CONNECT: ContentedCows.com, @ContentedCows, @BillCatlette