Contented Cows Give Better Milk
Your People...Your Profit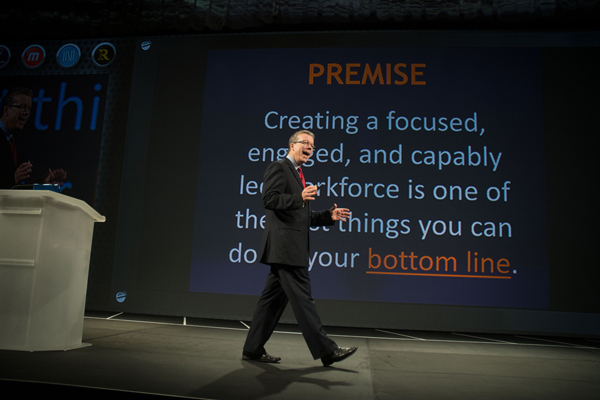 Based on the book, Contented Cows STILL Give Better Milk. Not your average "leadership" speech. The Contented Cows keynote presentation helps leaders make the connection between the work environment you create… and your organization's profitability.
Using facts, not faith, we demonstrate that Employee Engagement has a direct bearing on business outcomes.
Your People…Your Profit – The Keynote
• A compelling analysis of the employee engagement practices of the best-in-class employers
• Inspiring examples of other companies that know how to do it right…and a few that don't.
• Entertaining…irreverent…thought-provoking, and action-inspiring!
Three keys to winning through people
• How to get your people really committed
• How to enable them for peak performance
• How to let them know you care
The cold, hard facts about the return on investment from creating a focused, engaged, and capably led workforce.
Teach leaders how to achieve lasting competitive advantage by developing Employee Engagement. Increase retention, commitment, productivity, and profitability.
Organizational leaders, executives, senior staff, managers, supervisors, leaders in development.
Richard, You provided pertinent, actionable information that was right on target for us. Your in-depth prep work to understand us was a major key to your success with our group. I wouldn't hesitate to recommend you as a speaker.
Bill, thank you for a fantastic presentation! It was a pleasure having you on the program.  Your audience was greatly impressed with the quality of your content, your valuable insights and especially your relevant takeaways.
"Richard, When asked 'What was your favorite part of the retreat?' the most common response was your presentation. So thank you for all the time and work you put into making sure our managers got the most out of the event!"
Richard gave great ideas! Love hearing about the best practices! One of the best presentations of the whole conference! Very useful!
Richard – WOW!!! You sure exceeded my expectations! What we experienced was the most well-prepared, well-researched keynote ever. You did a fantastic job of celebrating everyone's contributions.
Richard, Your closing keynote address was one of the highlights of the conference. You were a true professional from start to finish. Several attendees told me that I did a great job in selecting you as a speaker.
It's always good to have a strong opening speaker, and that's what you were! Our members came away with something worthwhile. Something they could implement when they got home, which is huge!
We truly enjoyed having you, Richard!  I can't begin to tell you all the positive feedback we have received from our associates regarding your presentation.
Richard, I just wanted to say a heartfelt THANK YOU for your presentation.  I can't think of a better speaker for our group at this moment in time.  What you offered was right on point. I so appreciate the time you took to get to know Great Harvest to make it even more applicable.
"Richard Hadden delivered one of the highest-ranked mainstage presentations at our 2017 Top Producer Seminar. His real-world examples and research-based information, highlighted with humor, was perfect for our group."
"Richard, Thank you so much for your remarkable keynote at our National Huddle. The reaction has been terrific! You commanded the stage, and delivered a powerful, practical, entertaining presentation to our 1,200 Team Leaders."